teyit.org is an independent fact-checking organization based in Turkey. At a time when the trust in media is at all-time low, our main aims are to prevent false information from spreading online, help media consumers develop their media literacy skills, and develop methods to promote critical thinking.
We've been publishing analyses on teyit.org in both Turkish and English languages on suspicious content especially in times of crisis since our launch on October 26, 2016. We also give fact-checking workshops and contribute to publications aiming at raising awareness about the importance of public access to factual information.
teyit.org is a signatory to the International Fact-Checking Network's Code of Principles and is one of the partners of First Draft News.
IFCN Code of PRINCIPLES SIGNATORY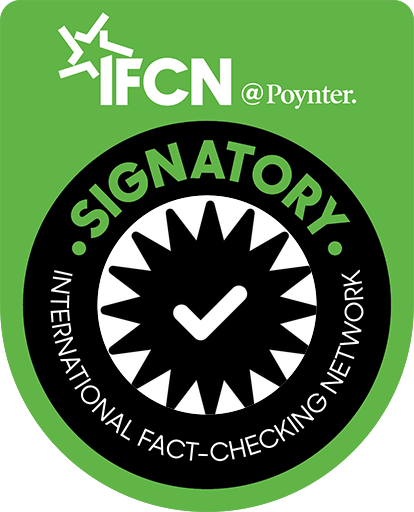 This badge confirms an organization was deemed compliant with the IFCN principles when subjected to the established vetting process and evaluated by external assessors. Through this process, an organization must exhibit a commitment to nonpartisanship and fairness, transparency of sources, transparency of funding and organization, transparency of methodology, and a commitment to open and honest corrections.
teyit.org is a non-profit organization with a focus on social impact. It operates under multiple institutional structures due to the lack of comprehensive social enterprise infrastructures in Turkey. Our activities in media are conducted by the Teyit Media Research Association and technology and training activities operated under Dubium Bilişim Danışmanlık ve Ticaret Ltd. Şti. on behalf of teyit.org.
This part of the page has been updated 9 July 2018
In order to maintain and improve its publishing operations, teyit.org accepts payments from funds by the EU and various embassies in Turkey, individual donations, and generates income from its business partners.
As a non-profit organization, teyit.org invests these resources into its editorial operations to have a greater social impact. Its revenue is never shared between the members of the organization.
Funds
In September 2016, teyit.org applied for European Union Sivil Düşün Program with the project entitled "the launch of teyit.org" and received a total of ₺9,770.00 from the program. With this support, we launched teyit.org's website, covered 6-month hosting and domain expenses, and published the Turkish version of "Verification Handbook: An Ultimate Guideline on Digital Age Sourcing for Emergency Coverage." The handbook was sent to NGOs and news media organizations for free. The budget was managed by Sivil Düşün itself on behalf of teyit.org.
In October 2016, teyit.org received a total of €111,300.00 financial support from the European Endowment for Democracy with the application entitled "teyit.org: verification working group". During a 13-month period between February 2017 and April 2018, the fund was used to cover following costs:

Four editors' salaries and social security payments

Subscriptions to fact-checking tools

Design, product development, partnership development

Consultancy in legal and accounting matters

Consultancy on how to assess the social impact teyit.org creates.

Attendance to the International Journalism Festival in Italy with two editors

Website maintenance and hosting

Publication of an insight report entitled "What do we suspect on the Internet?"
In December 2016, a total of £48,052.00 financial support was received from the British Embassy in Ankara for the "development of a portal for accurate and verified news during times of crisis" project. From November 2016 until March 2017, the fund was used to cover two editors' salaries, social security costs, and expenses made during research visits to London and Istanbul. We also managed to develop two internal softwares, namely dubito and teyit.link, and prepare a guide for instructor training program thanks to this fund.
In November 2017, teyit.org applied for "Swedish Consulate Turkish-Sweden Development Cooperation Unit's Bilateral Programme Fund" and received a total of ₺109,000.00 with the project entitled "Information activism against polarization." For the project that will continue until December 2018, we hired a project assistant and conducted a survey on news consumption habits in Turkey. Findings of the survey will be published in November 2018.
This website is built with the support of the European Endowment for Democracy (EDD). The views expressed here are teyit.org's own and do not necessarily reflect EDD's values.
Individual Contributions
teyit.org works to build a structure that is less dependent on funds in the long term. In a bid to achieve this goal, it launched a crowdfunding campaign in February 2018. In the first six months of the Patreon campaign, teyit.org raised a total of $1,560.00. The revenue generated from individual contributors has been used for our office expenses.
We would like to take this opportunity to thank our contributors.
Active supporters:
Ahmet Levent Tasel, Ahmet Yıldız, Ali Karabey, Ali Karakas, Anil Can Baykal, Anıl Onur, Ayşegül Engür, Barış Çoşkun, Bağış Erten, Bekir Alper Paksoy, Berivan Elis, Burak Direk, Burak Ersoy, Can Karalar, Can Kavanoz, Can Koklu, Can Çitoğlu, Cinar Gercek, Deniz Irsıdar Uludağ, Dogu Tan Araci, Ediz Evren, Elifcan Çakmak, Emin Okutan, Emre Koyuncu, Emre Toku, Engin Guven, Enis Tekindor, Eray Erdoğan, Evrim Ağacı, Ezgi Yetim Arsava, Ferhan Ture, girisimci muhabbeti, gonca, Güzin Begüm Erda, H Ceren Cihan Sarıtaş, Halit Kaya, Hamit Levent Evci, Hatice Ulaş, İsmet Osman Mavuş, Istem Duygu Akalp, Itır Erhart, Kadir Kutlu, Kadir Öztoksoy, Kaya Akan, Kaya Gökçe Dinçyürek, Laughing Man, Levent Başaran, Levent Ünver, Maytap, Mehmet Akif Erek, Mehmet Dogan, Mehmet Tok, Melda Günal, Melike Ceren İnan, Melike Olgu Okumus, Mert Can, Mert Torun, Merve Kavas, Merve Nur Okutan, Mesutcan Keskin, Muge Ozkaptan, Murat Akbıyık, Mustafa Basaran, Mustafa İncel, Mustafa Ozcakir, Mustafa Yaşar Soydaş, Mustafa Yenice, Nihan Gider, Oktay Kilic, Osman Coskunoglu, Ozan Dizman, Pelin Pervin Çavuş, Renay Onur, S k, sabitkamera, Sam Dubberley, Selkan Kaya, Serhan Lokman, Sunay Demircan, Taha Can, Tamer Aktaş, TLKiller990, Tolga İnam, Turgay Öztürk, Tülay Atila, Uğur Cevdet Aykaç, Volkan Ercan Varlı, Yakup Çetinkaya, Yavuz Arslan, yesatalim, Yiğit Akçin, Yusuf Ziya Uyanık, Zafer Gunduz, Zeynep Meydanoğlu, Zühtü Kahyalı, Özgün Dünyaoğulları, Özgür Demirtaş, Özgür Şahin and 2 anonymous.
Former supporters:
allyi, Barış Baysal, Bilal Arkan, Çağrı Latifoğlu, Emre Tekince, Maya Türkmen Numan, Nadir Kafalar, Serafettin Yarar, Serdar Çotuk, Sinan Akkol, Sinan Taşdelen and 3 anonymous.
Want to support facts? Please visit destek.teyit.org.
In kind contribution
Istasyon TEDU Center for Social Innovation provided teyit.org with office space and mentorship from April 2016 to December 2017. Istasyon's consultancy and mentorship helped teyit.org a lot in forming its vision, managing its team, developing revenue streams and communication strategies.
Collaborations
In May 2018, Facebook launched its third-party fact-checking program in Turkey and partnered with teyit.org in its war against misinformation and fake news. Since then teyit.org analyzes content shared on the platform and flags ones that contain false or misleading information. Based on teyit.org's analyses, Facebook penalizes pages or profiles sharing false or misleading information. In the first six months of 2018, teyit.org has received a total of $14,500.00 from Facebook for its partnership with the platform. The bulk of the revenue generated from Facebook has been used for staff salaries and the rest saved for technical and visual improvements on teyit.org.
teyit.org has been produced with the support of the European Endowment for Democracy (EED). Its contents do not necessarily reflect the official opinion of EED. Responsibility for the information and views expressed in this publication lies entirely with the author(s).